---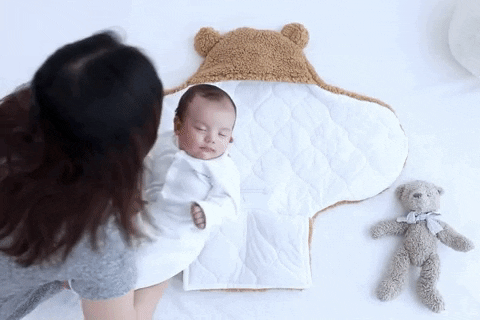 Cute & Calm
The Teddy Pouch is made from quality polyester (60%) and Organic Cotton (40%), an ultra-soft and breathable texture improving sleep quality and duration.
It features a unique double-sided flap for easy middle-of-the-night nappy changes, an inner arm wrap that even the trickiest of Houdini can't sneak out of and a special Velcro designed to be extra quiet.
The Teddy Pouch is the perfect gift for your baby child to warm their early childhood with love and cuddles!

Why Should You Buy One?
The Teddy Pouch gives babies a womb-like sensation due to the soft and snug embrace it provides. By preventing startles and wild-hand nose-whacks, it will keep your baby happier and improve his sleep. 
_____________________________________
Teddy Pouch Size
1-3 months : 2-5 kg / 

Length 24" (62cm)

3-6 months : 5-8 kg / 

Length 28" (70cm) 

6-9 months : 8-12 kg / 

Length 31" (78cm)